MommyLoves Maternity Fashion
"Mom" means something totally unique to any other title we may carry in life, and the fashion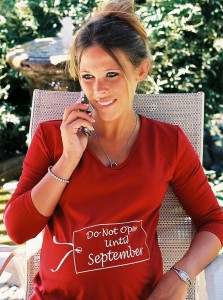 that accompanies that title changes right along with our little creations, starting with our first novelty maternity shirt.
Pregnancy takes a woman's fashion to a whole new level, and gives a new mom the opportunity to remake herself into her new role in life.  Do you stay classic, and simply wear the maternity versions of your favorite women's fashions, or do you shake it up a bit with humorous message maternity shirts?
Most new moms are so excited about that little seed that just got planted, and want to pop the news to everyone, rather than wait until the watermelon takes shape in a few short months, so they announce their impending arrival with some fun fashion.
There are almost as many ways to announce a pregnancy as there are positions to conceive one, and the announcement is just as personal as performing the act, so have fun with it!  Use your fashion to announce your pregnancy, especially if you are carrying twins!

 Use your fashion to announce your pregnancy!
Novelty maternity shirts are a very creative answer to that "is she" or "isn't she" stage, and they make great announcements to friends and family of your coming upheaval. (Sorry ladies, but you're all giddy now…just wait till that little bundle goes to school!)
You can go simple and classic, or funny and creative.  I've seen some pretty crude novelty maternity shirts, so I guess there's one for every style!  Personally, I  like to be funny and unique – everyone knows how I got pregnant, I don't need to show them!
Since pregnancy is such a short time compared to the time you will be a mom, I would suggest finding maternity clothes that are timeless, that way you can wear them for subsequent pregnancies should you choose to subject yourself to the whole "sibling rivalry" thing.
Change it up once the baby pops out
Once the baby arrives, the stages start to fly by like movie trailers at the theater.  Each stage necessitates changes to your wardrobe.  You don't want to wear cashmere while burping a baby, for instance, so adapt to the messy stages while keeping your style.
You won't need to announce to the world your "mom" status by wearing baggy sweats and your honey's tees after the baby is delivered, other moms will understand when they see the bags under your eyes, the spit-up on your shirt and the skirt tucked into your pantyhose debuting your mom underwear to the world when you walk out of the public restroom too preoccupied to first look at your reflection.  (True story!)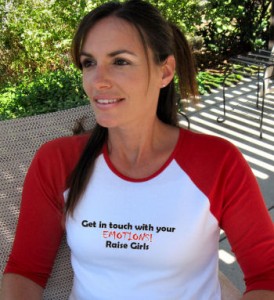 The only thing you need to remember about your mom fashion sense is that there will be pictures documenting all the stages of childhood (and, consequently motherhood), so don't embarrass yourself if you can help it!
Sometimes, it might feel like you are stuck in a particular frumpy phase, but like everything else, this is just a phase, unless you embrace it as "normal".  Have fun with your personal style, and your fun attitude will show through to the world…not to mention, your kids!
Happy Motherhood!