Sequoia High Sierra Camp. A Glamping Getaway for the Whole Family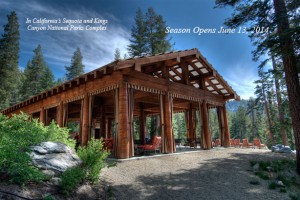 There are few unforgettable experiences in life, and when you get the chance to create one, I suggest you take it!
Since my birthday always takes place on Labor Day Weekend, there are few places I can celebrate in seclusion, except at home, and what's the fun of that the 30th time?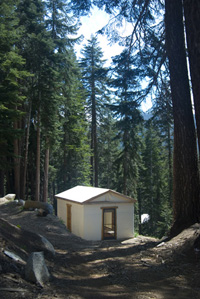 When I found Sequoia High Sierra Camp (SHSC), I knew I had found the perfect place to celebrate my 50th birthday!
This destination, for it is exactly that, is only for those who want to luxuriously rough-it!
Sound like an oxymoron?  It is!
Here is the dichotomy:
You will be camping, with no phones, television or electricity….however,
You will be staying in a hotel, with a feather bed, incredible food and 5-star service!
The adventure begins just getting there!
The drive alone will get you ready for the alone-ness of the place.  The last part of the journey is a rough road, the last two and a half miles of which are unpaved and pot-holed, which ends in a large, gravel parking lot where your car will camp out alone.  This is the wilderness, folks, so don't leave food wrappers or water bottles in your car, unless you want the bears to visit it while you are gone.
You will then hike almost a mile before you get to the actual camp, so don't bring your suitcase, unless it has backpack straps, and weighs much less than the airplane limit for luggage!  Rolling suitcases do you no good here, my friends, and you won't miss them!
"Pack Light" is the motto of the trip!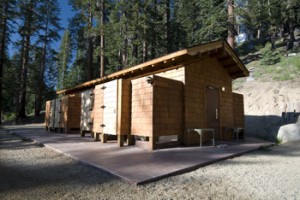 The bathrooms have electricity if you really can't live without your hair dryer or curling iron, but I suggest bringing a variety of hats…they're easier to pack and reduce the amount of sunscreen you'll need!  There are private, outdoor showers, but, remember, this is summer in the California Sierra Nevada Mountains, so later afternoon showers are best to refresh from rigorous hikes, or relaxing naps, whichever you choose!
You are greeted by the following, after you climb a little hill to the camp:
The amazing Pavilion in the picture at the top of this post,
A plate of freshly baked cookies, homemade lemonade and ice-cold water,
A smiling, welcoming face with check-in and directions to your secluded cabin,
A spectacular view of Kings Canyon!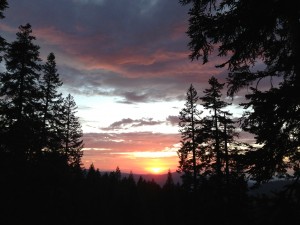 This is an all-inclusive trip.  The price you pay per night includes everything you need – all meals, snacks and non-alcoholic beverages.  The dining is family style, in that you sit wherever and with whomever you wish, so you will certainly make new friends, and get ideas about hikes you want to take from those who have been there!
The food is delicious, and there is a pack-your-own-lunch station, where you fulfill your personal dietary desires by creating your perfect hiking or afternoon contemplation meal!
The point of Sequoia High Sierra Camp is adventure hiking and camping, while sleeping in a bed, and being catered to.
If that is your idea of heaven, you've found your next adventure!
My 50th birthday was spent here, and it was spectacular, and unforgettably fun with my boys!
We hiked to Mitchell Peak, the highest I've been in the Sierra's at 10,365 ft. above sea level, and you can see the amazing views in this video.
I highly recommend Sequoia High Sierra Camp to anyone loving deluxe accommodation adventure! (and No! I wasn't paid to say any of this!)
Enjoy the Journey, my friends, and tell them "Hi!" from me when you visit!